Today I'll be reviewing a brand new course on making money with social media, called PostBlazer.
PostBlazer is a brand-new course by Fletcher Prescott that teaches how to make money online with social media.   Now, it is true that there have been many courses teaching various ways of making money using social media sites.  In PostBlazer, Fletcher teaches exactly what he does to make more than a full time income using something that Facebook gives you for free.
As you may have guessed, PostBlazer focuses on making money with Facebook Pages.  Now, even though there are tons of courses out there teaching how to create and make money with Facebook Pages, they are all missing some very important key elements.  In PostBlazer, Fletcher leaves nothing to chance and covers things that most people have never even thought of.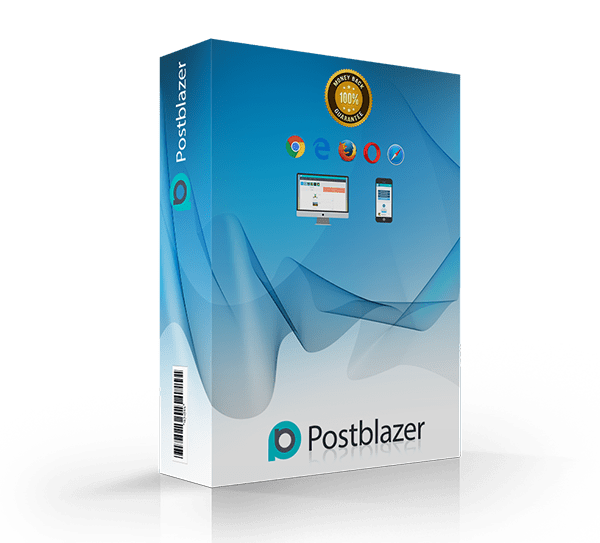 The Front-End and OTO's
FRONTEND – POSTBLAZER TRAINING: How To Get Started Earning Real Income On Social Media – $12-$17
In this over-the-shoulder video training, Fletcher shows you:
How to get started in this FUN way of using what Facebook gives you.

How to avoid the number one biggest pitfall that can kill your chances of success.

Not one but two ZERO-COST ways to monetize your Facebook pages.
UPSELL 1 – POSTBLAZER PLATINUM TRAINING: Complete Facebook Page Empire & Agency Training – $47-$77
For the real action taker, Fletcher has laid out everything he knows about building up, managing, and profiting from an empire of Facebook Pages.
The best part? This training is visual, easy to follow, and FUN!
You'll discover:
How to build a brand new social media account from 0 followers to 1000s.

How to turn a raving audience into customers the RIGHT way.

How to automate their entire social growth.

How to manage high-paying clients and potentially earn $1000s on the side.

How to avoid the BIGGEST mistake 99% of social marketers make.

And much more…
UPSELL 2 – POSTBLAZER AUTOMATION APP: Monthly License: $19/month (Yearly License: $117/year)
Postblazer is a full social media automation suite that gives you everything you need to schedule, grow, and profit with Facebook and Twitter all under one roof.
You can easily schedule entire months of branded, viral Facebook and Twitter content in just 1 hour with our drag and drop interface. That means you can sell 24/7 without even being online. It's like having your own agency promoting your offers round the clock.
Postblazer isn't just 1 software app, but 3 unique software apps rolled into a complete suite.
Unlike other automation softwares which bombard users with low-quality, poorly formatted posts, Postblazer has a few unique tricks up its sleeve, so you can blast past 10,000s of other automated posts and sell fast.
With our exclusive Find Viral Content and Image Editor features, you can provide a constant stream of BRANDED viral content, products, and promotions with a few clicks and never be left wondering what to post for maximum returns. Posts are high-quality and look human.

PostBlazer Launches Thursday, June 14, 2018 at 11 am Eastern and Closes Sunday, June 17, 2018 at 11:59 pm
Are There Any Bonuses?
As my personal thank you for picking up PostBlazer thru my link, you'll also receive my exclusive bonus package with your purchase.  You can see all the bonuses here.
HURRY! These Bonuses Expire in:
The Pros and Cons
In order to give you the most complete and honest review of this product, I feel it is necessary to point out both the good and the bad.  Most reviews that you'll see online for PostBlazer, or any product, will just talk about how great it is.  That's because those doing the reviews are earning commissions for every sale, as I am.  However, I feel it is more important to give you all the information, so you can make an informed buying decision.
The Pros
PostBlazer teaches a unique and complete approach to making money with Facebook Pagesf.  This is truly something that even beginners can do, with absolutely no prior experience.  Plus, the optional upgrade to the PostBlazer App will put your entire business on autopilot.
The Cons 
Some of the training modules may seem a bit long, so it will take some time to get through the course.  However, this is only to be absolutely sure that you understand every single detail of what you need to do to achieve success.
In Closing
PostBlazer teaches a more complete approach to making money with Facebook Pages than any other course currently available.  Even though some of the modules can be a bit long, they are nonetheless very detailed and complete. This is truly a course that anyone can follow to achieve success, regardless of there level of experience.